Barred Dove
Geopelia maugei (Temminck, 1809)
---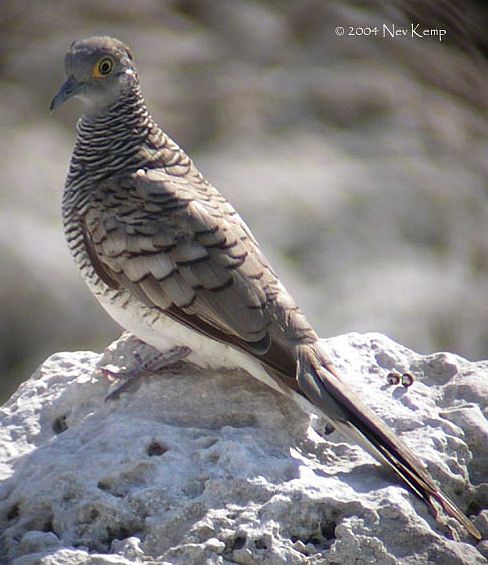 ---
Barred Dove
Photograph used with the permission of Neville Kemp, UK/Indonesia
---
I have found very little information on this species. Although there are almost 700 entries available on the internet (Google search), so far I have not found any that are more than an inclusion in a list of species and a few photographs. The primary reference used here is the Gibbs, Barnes, and Cox book (1) and their narrative is very limited. They include two references, one being Derek Goodwin's Pigeons and Doves of the World, 1983 edition. Goodwin only addresses G. striata maugeus in one sentence where he says the species is darker than the nominate species and that the chest is strongly barred with a pure white belly. The other reference the White and Bruce's 1986 book, The Birds of Wallacea which I have not been able to find.
Introduction
The barred dove is similar to the zebra dove (G. striata) and the peaceful dove (G. placida). Previously all three species were included under the name Geopelia striata. The common name, barred dove, has been used for both of these species, and is still often used
Description
The barred dove is slightly larger than the zebra dove being about two centimeters longer. It also differs from the G. striata and G. placida by the yellow orbital skin. These latter two species have a bluish orbital skin.
Distribution
This bird is found in Indonesia on the Lesser Sunda Islands, including Sumbawa, Flores, Sumba, Timor, the Tanibar Islands, and the Kei islands. Unlike the zebra dove, it is common throughout its range
Habitat
Barred doves are usually found in dry, open habitat with some scrub vegetation which is used for cover. Sometimes they are found along the edge of dry wooded areas.
Feeding
The Gibbs, Barnes, and Cox (1) book does not provide any information on feeding.
Nesting
The Gibbs, Barnes, and Cox (1) book does not provide any information on nesting.
Measurements
Male Length - 232-258 mm
Female Length - 210-233 mm
Estimated Weight - 75-85 grams
Breeding in Captivity
I have not heard of anyone that has kept this bird in captivity in the United States at this time.
References

(1) Gibbs, David; Barnes, Eustace; Cox, John "Barred Dove, Geopelia maugei", Pigeons and Doves, A Guide to Pigeons and Doves of the World, London: Yale University Press 2001, pp. 313-314

(2) Goodwin, Derek, "Zebra Dove, Geopelia striata", Pigeons and Doves of the World, London: Trustees of the British Museum (Natural History), 1983, pp. 172
---
©2006 - Helen White

Helen White
P. O. Box 367,
Tallahassee, FL 32302-0367


Last revised on: April 16, 2006