Welcome to the Diamond Dove Home Page.
MAIN MENU
Diamond Doves
Home
Site Map
Diamond doves
Acquiring Diamond Doves
Caring for Diamonds
Living With Diamonds
Raising Diamonds
Growth of a Diamond Baby
One Year's Reproduction Data
Tribute to China
---
Other Dove Species
Other Geopelia Species
Ringneck Doves
Eurasian Collared Doves
Cape Doves
Mourning Doves
Mourning Dove Baby Growth
Rock doves
North American Doves
Dove Genera of the World
---
All Doves
Caring for Injured or Sick Doves
Taming Doves
---
Other
Books of Interest

Some Bird stories

About Me
---
Links
Informational Sites
American Dove Association
Wilmer J. Miller PhD. - Ringneck Doves.
Commercial Sites
Jeff Dowining - Diamond Doves
Garrie Landry - Diamond Doves
Wade Oliver - The Dove Page
Doveland Press - Diamond Doves
---
Books of Interest
---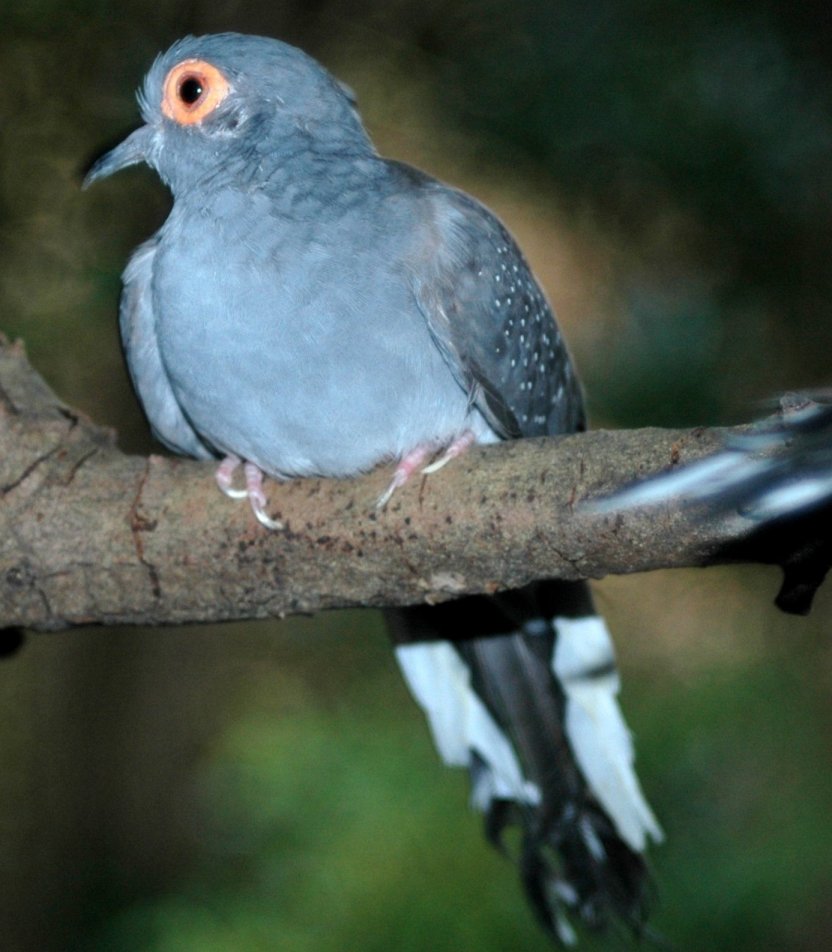 ---
Peep

Hatched 1998
Photo taken 2005
---
I have listed several books that I have used a guide for taking care of my doves, to satisfy my curiosity about the dove family, and lately to respond to all those readers that write in with their questions. For people interested in taking care of and understanding their diamond doves, I strongly recommend Vriend's and Van Hoozier's books.

Baskett, Sayre, Tomlinson, and Mirarchi, Ecology and Management of the Mourning Dove, Harrisonburg, PA, 1993, pp. 567
This book provides in depth information on the biology, life history, population characteristics, behavior and research on the species Twenty nine chapters in four sections cover such topics as classification and distribution, migration, nesting, reproductive strategy, growth and maturation, feeding habits, diseases. population trends, and care of captive mourning doves. And it has some of the best mourning dove drawings that I ever seen in any book on birds. The book does deal with the management of the dove as a game bird.
Brown, Danny, A Guide to Pigeons, Doves & Quail, Their Management, Care & Breeding, South Tweeds Heads, Australia: Australian Birdkeeper 1995, pp. 184

This book covers all aspects of the management and breeding of all species of doves, pigeons, and quail which are available to those who raise birds in Australia. And this of course includes the diamond dove, its relatives in the genus Geopila cuneata, and the ringneck dove which are the main birds of interest on this site. The first 59 pages of this book provides information on aviary type housing, feeding methods and nutrition, reproductive manipulation techniques, stock selection, and common diseases and disorders. The last 102 pages include specific direction for the management of 31 species of doves and pigeons and 12 species of quail.

Gerstenfeld, Sheldon L. V.M.D. The Bird Care Book, All you need to know to keep you bird healthy and happy, Reading, MA , Addison-Wesey Publishing Company 1989, pp. 232
I have found this book to be an excellent resource for finding answers when birds are ill or injured. It includes charts to diagnose and treat common ailments, step by step first aid with diagrams, the essentials of home pharmacy plus information on nutrition, exercise, training and more
Gibbs, David; Barnes, Eustace; Cox, John Pigeons and Doves, A Guide to Pigeons and Doves of the World, London: Yale University Press 2001, pp. 615

This book is mainly for those who are interested in the classification and identification of doves throughout the world. It has excellent color plates including male and female, and mature and immature birds for 318 species. Careful use of these plates allows accurate identification of all pigeon and dove species. It also has descriptive material for each bird included and a generalized description of each genus. Range maps are also included.

Goodwin, Derek, "Diamond Dove", Pigeons and Doves of the World, London: Trustees of the British Museum (Natural History), 1967, pp. 288

This book, which is now out of print, is similar to Gibbs, Barnes, and Cox book listed above. However aside from the description of the species, it includes 47 pages of generalized descriptions of nomenclature, plumage, eggs, feeding habits, voice signals, social behavior, pair formation, nesting, and parental care, anti-predator and escape behavior. Species descriptions also include black and white line drawings and range maps. While this book is no longer for sale it can be obtained from libraries or through interlibrary loans.

Gos, Michael W., Doves. Neptune City, NJ: T.F.H. Publications, Inc., 1989, p. 98

This well illustrated book is often sold in pet stores. It includes full color photographs of numerous dove species. At first glance the book seems poorly organized as it includes one long narrative from the beginning to page 76 where descriptions of the species begin. However the "chapter" headings are listed above a header line so it is easy to flip through the book and locate the subject matter you are looking for. In my opinion the advice offered is excellent and some information includes is not found in the more recent books. Four domesticated doves, eleven foreign wild type doves, and three native doves are described. Only one short paragraph mentions fruit doves. An index is provided which also facilitates the location of desired information.

Naether, Carl A., "Diamond Doves" Chapter 7 of Raising Doves and Pigeons. New York: David McKay Company, Inc., 1979, pp. 150

Carl Naether, a professor of English at the University of Southern California had been raising doves for 50 years at the time of the writing of this book in 1979. In the book he shares his experiences gained during this time This is an introductory book for the beginner. The book is divided into two parts. Part I include aviary life, the character and behavior of the birds, their life cycles and the pleasure of raising them. Part II presents information about ten popular birds including the diamond dove and ringneck dove. Those desiring to locate this book can probably find copies in public libraries or access it though an interlibrary loan request.

Van Hoozier, Charlotte Cox, M.D. Diamond Doves: A Year in the Life of My Diamonds, Abe and Sarah. P. O. Box 7043, Macon, GA 31209-7043: Doveland Press, 2001, pp. 130

Dr Van Hoozier's book on diamond doves is to be released sometime in May 2001. This book is unique in that it describes a pair of diamonds' first year in having babies. The year was a learning process both for the doves and Dr. Van Hoozier. While the book is not organized to facilitate obtaining information needed to take care of your doves, that information is included in the narrative about the birds' lives. Unlike other books on doves, this book describes in detail the interaction between the doves, their offspring, and their caretaker. Most other books on doves are organized as a reference book, but this one is written so it often reads like a suspense story, leaving you wondering how Abe, Sarah and Dr. Van Hoozier are going to solve the next crisis that occurs. Note: This book is currently out of print.

Vriends, Matthew M., PhD., Doves, A Complete Pet Owner's Manual. Happauge, NY: Barrons Educational Series, Inc., 1994 , pp. 112
Dr. Vriends, who hold a Ph.D. degree in zoology, has written over 80 books on birds and other small animals and he has traveled extensively throughout the world to observe various birds and animals in their natural environment. The first 48 pages of this book includes information on dove feeding, caging, breeding, health care, and more. It also includes 56 pages of descriptions of dove species with illustrations of each bird. The entire book is well illustrated with color photographs and useful line drawings.
---
©2005 - Helen White

Helen White
P. O. Box 367,
Tallahassee, FL 32302-0367



Last revised on: October 5, 2005