Welcome to the Diamond Dove Home Page.
MAIN MENU
Diamond Doves
Home
Site Map
Diamond doves
Acquiring Diamond Doves
Caring for Diamonds
Living With Diamonds
Raising Diamonds
Growth of a Diamond Baby
One Year's Reproduction Data
Tribute to China
---
Other Dove Species
Other Geopelia Species
Ringneck Doves
Eurasian Collared Doves
Cape Doves
Mourning Doves
Mourning Dove Baby Growth
Rock doves
North American Doves
Dove Genera of the World
---
All Doves
Caring for Injured or Sick Doves
Taming Doves
---
Other
Books of Interest

Some Bird stories

About Me
---
Links
Informational Sites
American Dove Association
Wilmer J. Miller PhD. - Ringneck Doves.
Commercial Sites
Jeff Dowining - Diamond Doves
Garrie Landry - Diamond Doves
Wade Oliver - The Dove Page
Doveland Press - Diamond Doves
---
Growth of a Diamond Dove Baby
---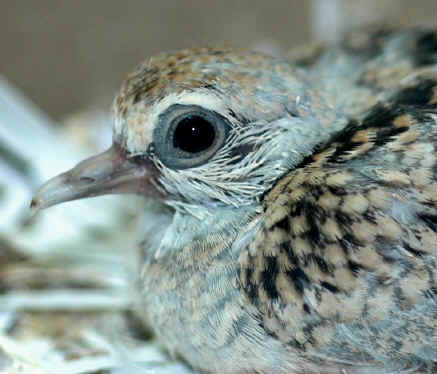 ---
Baby June
Age 10 days
Hatched June 24, 2007

---
Baby Development
Many visitors to this site have asked questions about the growth and development of young babies. This section now includes daily photographs and length measurements of a diamond dove baby for the first three weeks of it's life.

Background of Parents
The male, Australia, was purchased from a breeder in New Mexico and was received in February 2006. He was banded and was two years old when received. The male was purchased as a caretaker bird for China a very old hen who had lost her mate and her two best friends, but China died two weeks before the male arrived. (See the page A Tribute to China). The male lived without a cage for a year and a half and roosted on some oak branches located near the bird cages. He always picked the same spot allowing his stools to fall on sheet plastic purchased to protect the furniture. He obtained his food and water by going in open cages.

Tasmania was purchased as a mate for Australia in December 2006. Although Tasmania was interested in Australia from the start, she was rejected by him as an intruder. After a few months passed then Australia did become interested in her but by then she had become angry with him and resisted his advances. In February 2007 a cage became free when the white Eurasian collared dove left for another home and Tasmania moved into the cage and took over the empty nest immediately. She laid her first two infertile eggs soon after she had the nest. Australia was put in the cage after a week but they fought so he was removed. Several trials were attempted and then one day we saw Tasmania shake her wings when Australia passed by on the outside. The cage was opened, he went in and a sometimes violent courtship followed. After some time Tasmania laid two eggs and they incubated them. Both eggs were fertile but the embryos died just before the end of the incubation period. After some time a second clutch was laid and and this page is the story of the second baby in that clutch. He hatched out on June 24, 2007.
Growth Records
The graph below displays the daily growth records from age 0 to age 21 days which is about the time most babies are allowed to stay in the parent's cage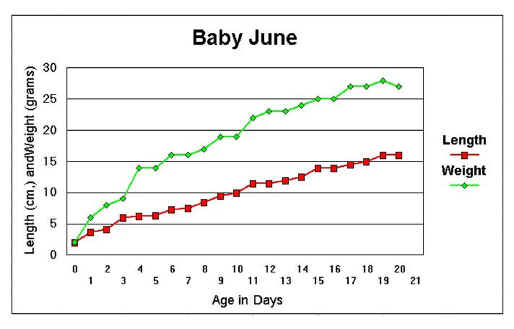 Do note the change in size of the baby is not well represented in the photos as the photos at the younger ages were taken closer to the dove than those taken at the older ages. This procedure provided a greater amount of detail in the younger bird. However the length of the baby is given for each day
Day 1
June 24, 2007

The first baby of this clutch was too weak to feed and tossed form the nest. The second baby hatched out on the morning of July 24, 2007. The parents kept it covered except for feeding.
Day 2
June 25, 2007

The parents kept the baby covered except for feeding.
Day 3

June 26, 2007

The baby sometimes opened its eyes. The parents again keep the baby covered except for feeding.

Length: 4.1 centimeters (est.)

Weight: 8 grams (est.)
Day 4
June 27, 2007

The babies eyes are now open except when sleeping after being fed. Pin feathers can be seen over most of the body

Length: 6.0 centimeters.

Weight: 9 grams
Day 5
June 28, 2007

The pin feathers have grown longer and the feather vanes can bow be seen at the end of the pin feathers.

Length: 6.2 centimeters.

Weight:14 grams
Day 6
June 29, 2007

Most of the wing feather vanes can now be seen, but the head is still covered with pinfeathers. The dark colored primary flight feathers are now visible. The tail feathers are just starting to grow out.

Length: 6.4 centimeters.

Weight: 14 grams
Day 7
June 30, 2007

The baby is left uncovered all the time. He is fairly inactive and sleeps after being fed. Does not beg for food.

Length: 7.3 centimeters

Weight: 16 grams

Day 8
July 1, 2007

The baby now has some fully opened
feathers on his head. He is now very active and is walking around the nest, sometimes looking over the edge. Preens his own feathers for the first time.

Length: 7.5 centimeters

Weight: 16 grams
Day 9
July 2, 2007

The baby continues to be active and often begs for food. The tails has extended the bird's length another centimeter .

Length: 8.5 centimeters

Weight: 17 grams
Day 10
July 3, 2007

Frequently begs for food. Continues to be very active.

Length: 9.5 centimeters

Weight: 19 grams
Day 11
July 4, 2007

Took out of nest to measure and put on carpet. The baby flew up about three feet and then across the room to the couch.

Length: 10 centimeters

Weight: 19 grams
Day 12
July 5, 2007

Now flies around cage, chasing parents to ask for food. There is some pecking of seed on the cage floor but does not eat any.

Length: 11.5 centimeters

Weight: 22 grams

Day 13
July 6, 2007

Roosted on bar last night with parents.
Continues to peck at seed but does not eat any, continues to chase parents for food.

Length: 11.5 centimeters

Weight: 23 grams
Day 14
July 7, 2007

Allowed to go to the sun window with the other birds. They taught the baby how to peck bread. Then soon he was able to peck some seed. Made its first peeps.

Length: 12 centimeters

Weight: 23 grams
Day 15
July 8, 2007

Continued to try and peck seed, mother preened the baby, slept with parents on the perch at night.

Length: 12.5 centimeters

Weight: 24 grams
Day 16
July 9, 2007

Pecking bread and cheese, trying to
peck seed, starting to have success,
roosted on perch with both parents at
night.

Length: 14 centimeters

Weight: 25 grams
Day 17
July 10, 2007

The female laid her first egg of the next
clutch late the previous evening. Baby
now helps with the incubation of the new egg. Sometimes the baby is left alone with the egg.

Length: 14 centimeters

Weight 25 grams
Day 18
July 11, 2007

Now able to peck seeds very well. Often sits on the egg with the mother.

Length: 14.5 centimeters

Weight: 27 grams
Day 19
July 12, 2007

The second egg was laid in the afternoon. Baby helps with incubation but slept with the father on the perch.

Length: 15 centimeters

Weight: 27 grams
Day 20

July 13. 2007

When the cage door is left open goes out and eats cheese, noodles and bread with the other birds. Peeps while flying. Explores room and wanders on carpet. Rarely seen begging for food anymore. Continues to return to the cage to sleep with the parents.

Length: 16 centimeters

Weight: 28 grams

Day 21
July 14, 2007

No change. Sleeps on perch with father and helps with egg incubation

Length: 16 centimeters

Weight: 27 grams (note decrease)
---
Source:
Van Hoozier, Charlotte Cox, M.D. Diamond Doves: A Year in the Life of My Diamonds, Abe and Sarah. P. O. Box 7043, Macon, GA 31209-7043: Doveland Press, 2001, pp. 130

---

©2007 - Helen White Helen White
P. O. Box 367,
Tallahassee, FL 32302-0367


Last revised on: November 20, 2007